Recovery & Resilience
| | | | | |
| --- | --- | --- | --- | --- |
| Recovery  |    | & |    | Resilience |
| from Hurricane Florence is imperative and ongoing for homeowners, businesses and public infrastructure | | | | is an Economic Redevelopment Strategy to defend Pollocksville from future flood events. |
During the historic event of Hurricane Florence in September 2018, the Trent River rose approximately 25 feet. The highest in local memory, as shown below

Florence flooded nearly 75 homes in Pollocksville. Businesses closed, the Town Hall was completely submerged except for the roof, and the sewer pump stations failed. Rebuilding has been slow and difficult. 
| | | |
| --- | --- | --- |
| | | |
Pollocksville's revitalization has begun. New homes are being constructed, businesses are returning, and NC State's Coastal Dynamics Design Lab (CDDL) has partnered with the Town to develop the Pollocksville Floodprint. CDDL brings an unparalleled technical expertise to work with the citizens of Pollocksville to envision and develop innovative strategies to connect and manage vacant land in Pollocksville. Coastal Dynamics Design Lab (CDDL) is an inter-disciplinary group of landscape architects who bring natural and technological solutions to mitigate future damages and spur economic development. The Pollocksville Floodprint will be finished by July 15th, 2021.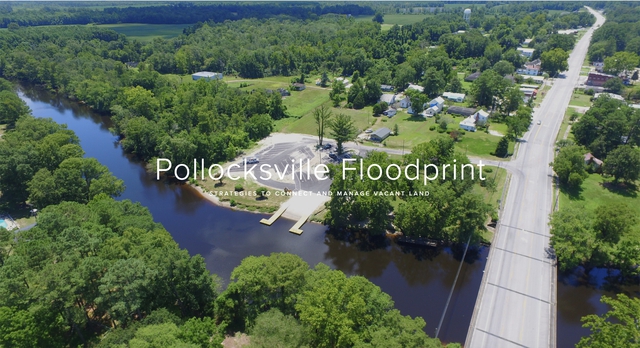 Helpful Resources
HomePlace is a Home and Community Design Guide for rebuilding with resilience at the forefront, which was prepared for Kinston following Hurricane Florence.
Sea Grant Coastal Landscaping Resources which include rainscaping, rain gardens, and other planting guides.